June 6, 2021 10:35
I had rendered an organ cabinet design for the reuse project proposed by Milwaukee organ builder John Miller and me when I began to define inherited alpine elements in my design language. The innovative application of milk paint to organ cabinet design is one way I now express that language.


These renderings reimagine that same cabinet using the milk paint color Pecan for keydesk and side frames. Other frames are constructed of African mahogany and raised panels of plain-sawn red oak.
The rendering below is a social media fan-favorite and features the keydesk frame milk painted with a very historically authentic Granny Smith Green.
John Miller and I are innovative in how we think about the pipe organ. I already wrote a blog entry about using a cabinet organ in an alternative multi-use arts or performance space. Our concept, as rendered here, would make a perfect addition to such a space and open up all sorts of possibilities for programming collaborative performance events.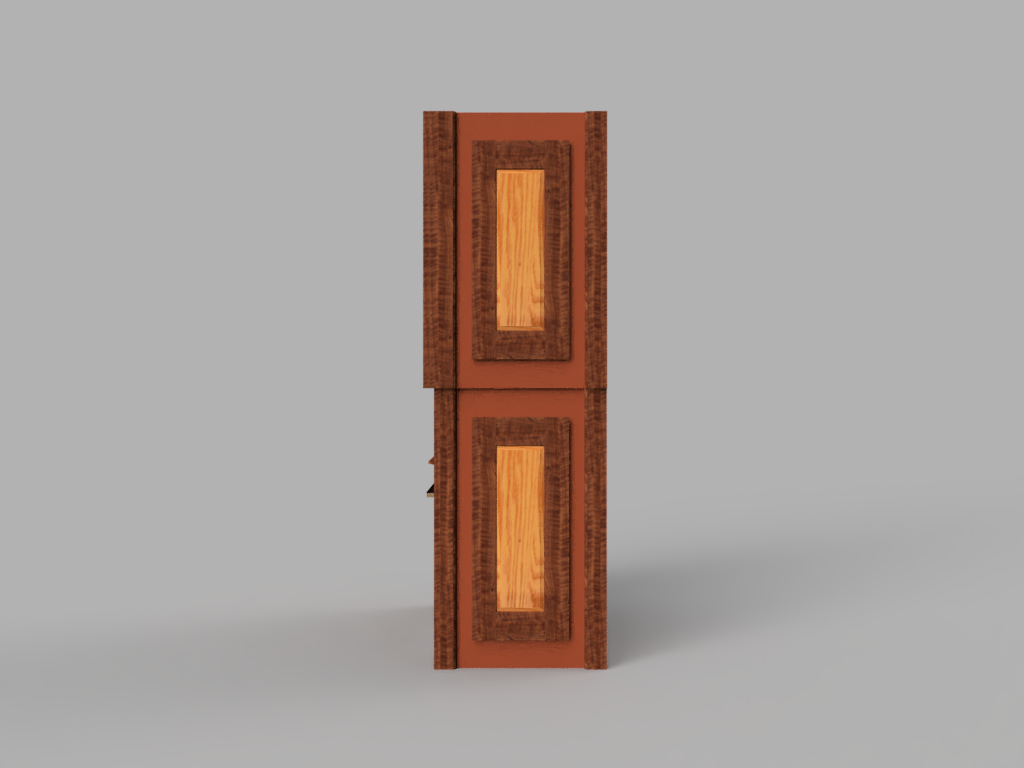 Posted June 6, 2021 10:35

June 6, 2021 09:53
Organ building is equal parts art and engineering. Pipe organ key action design combines both. Mechanical key action connects each key with a corresponding pipe valve through direct linkages that provide the musician with closer control over how and when wind enters the pipe. These linkages are sometimes referred to as trackers, so you will also see and hear this type of action referred to as tracker action.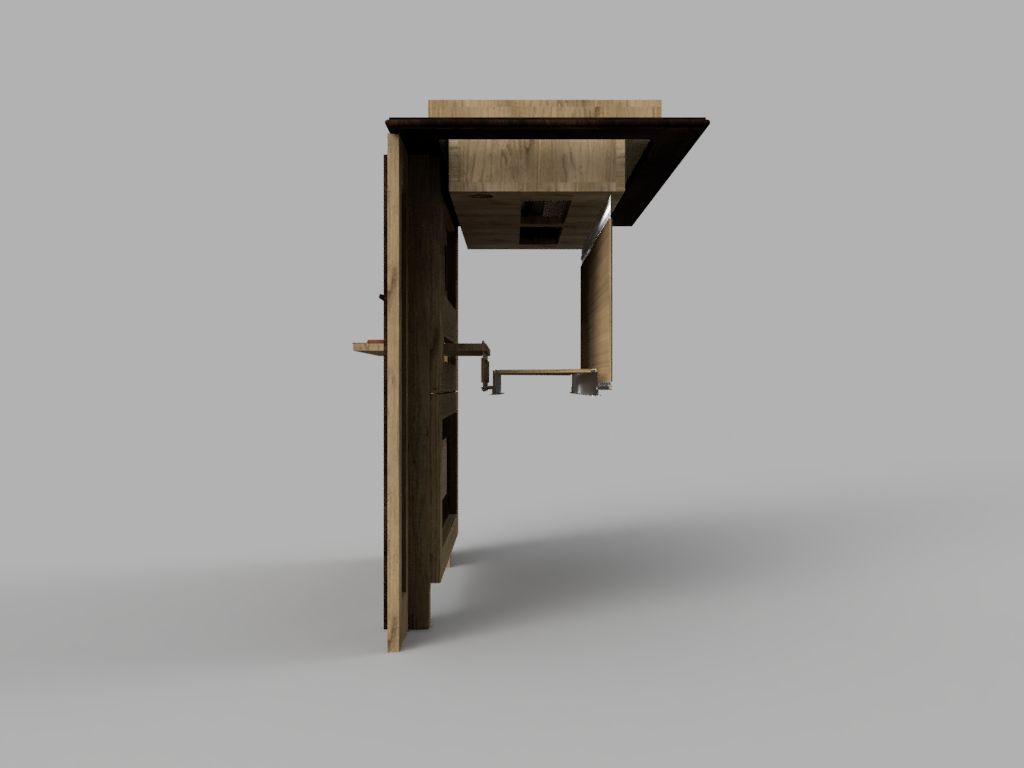 The benefit to the musician of key action type is often debated but true. For some larger instruments, mechanical action is not possible. For my cabinet organs, it is playable, reliable, and easy to maintain. It is sustainable and pragmatic.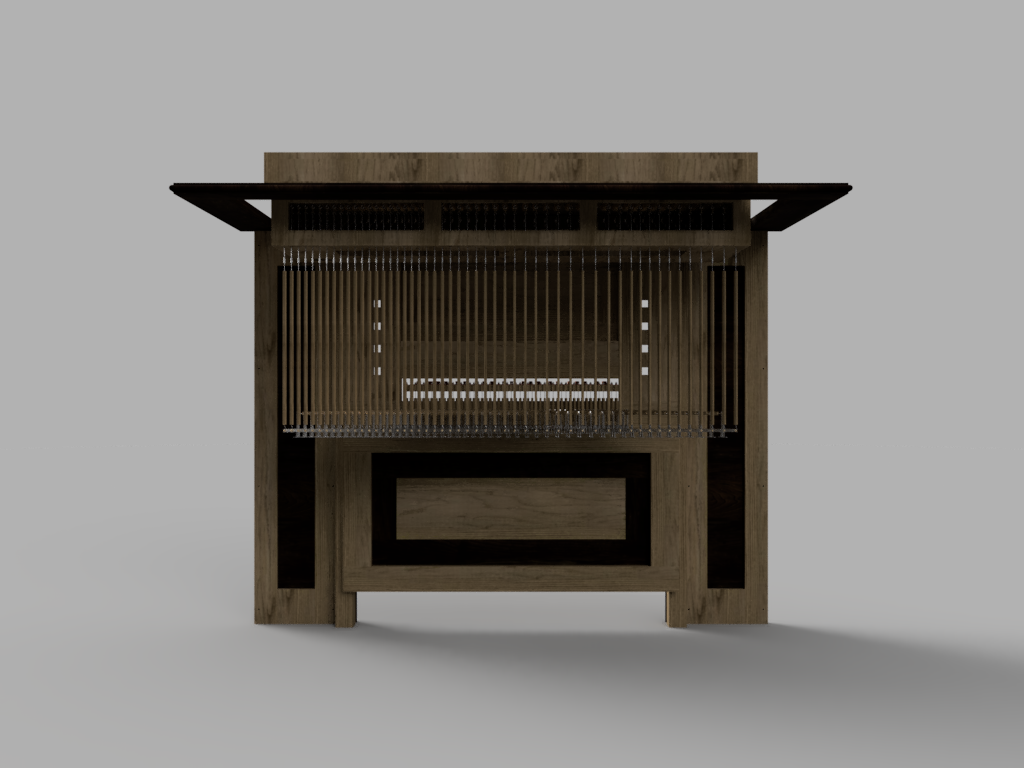 The renderings here show a splayed key action design example repurposed from one that I developed for an organ I built where I wanted the instrument to have the feel of a larger organ. A proficient mechanical key action design facilitates communication between the musician and his or her instrument.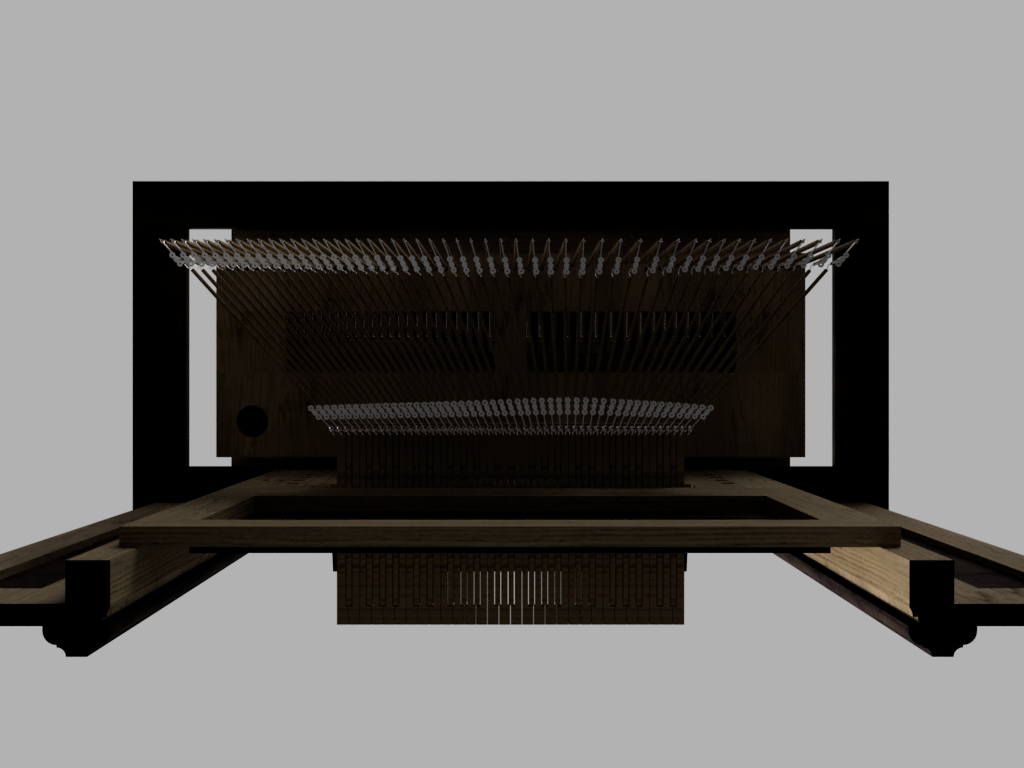 Posted June 6, 2021 09:53

June 6, 2021 09:39
A product platform is an engineering design concept used to produce a family of derivatives. More often associated with the automotive industry, the idea finds itself in the organs of the eighteenth-century German organ builder Gottfried Silbermann who built parish organs along similar lines as evidenced, for instance, by his instruments at Großhartmannsdorf, Forchheim, and Rötha.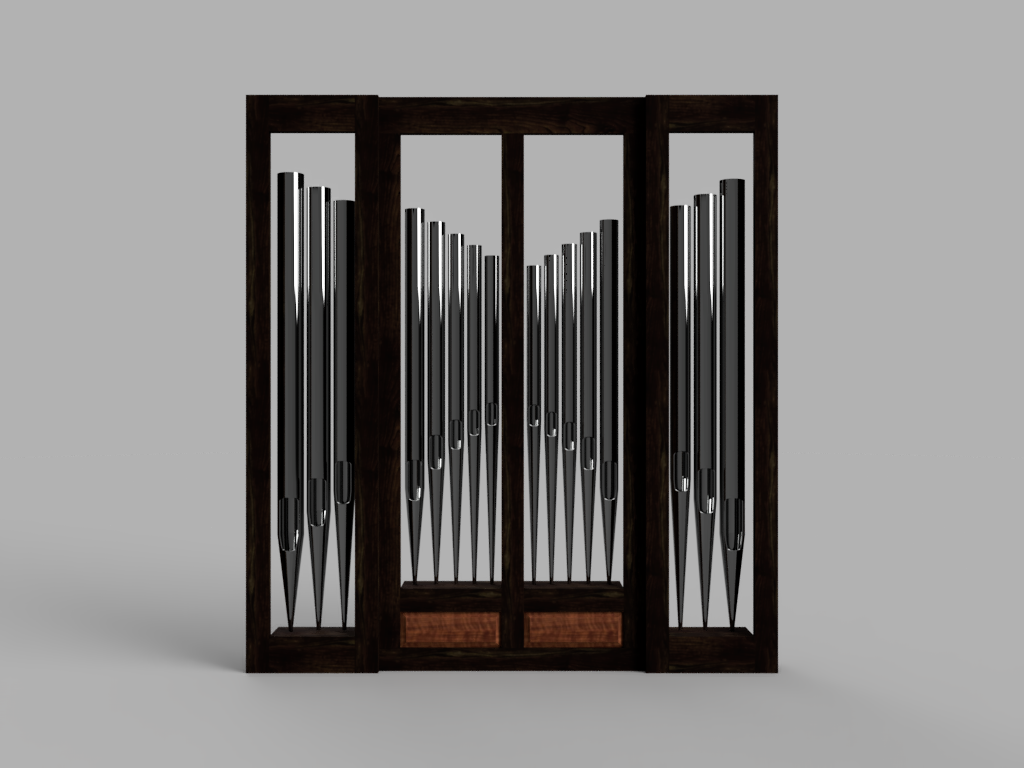 I often thought that the third organ I built for the pastor of a church I knew well should provide the basis for similar instruments built from its design. I revised that organ here using its archived design object library and solids model design work from the redesign concept of my first organ conforming to my artist statement.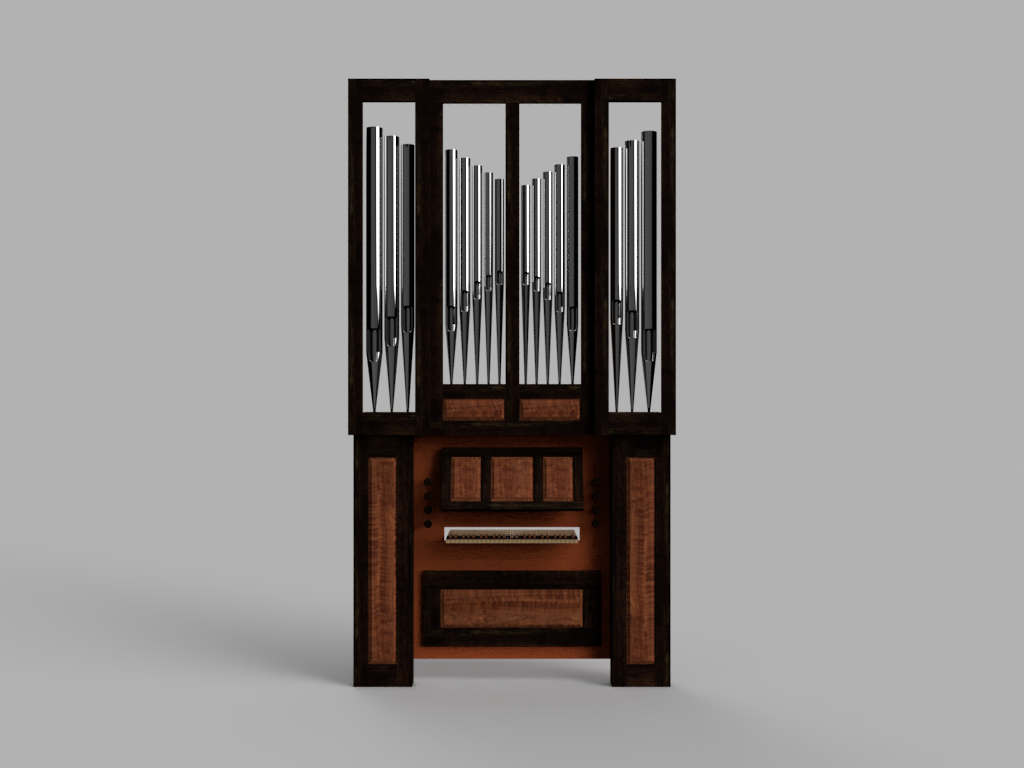 Copel 8' (notes 1 - 17)
Principal 8' (notes 18 - 51)
Flauta 8' (notes 18 - 51)
Prestant ßass 4' (notes 1 - 17)
Prestant 4' (notes 18 - 51)
Flet 4' (notes 18 - 51, potentially triangular)
Mixtur III
Posted June 6, 2021 09:39

June 3, 2021 20:16
I solids modeled the triangular organ pipes shown here in Barn Red, another milk paint color offered by the Real Milk Paint Company. Earlier this year, I saw pipe organ restoration work associated with a mid-nineteenth-century instrument posted on social media when milk paint was making the social media rounds through posts by woodworkers building things like period-correct Windsor chairs.
Some of the internal organ assemblies and larger wood pipes under restoration were painted darker red. I thought about painting the larger pipes I hang off the back of an organ case with red milk paint. There began my passion for milk paint.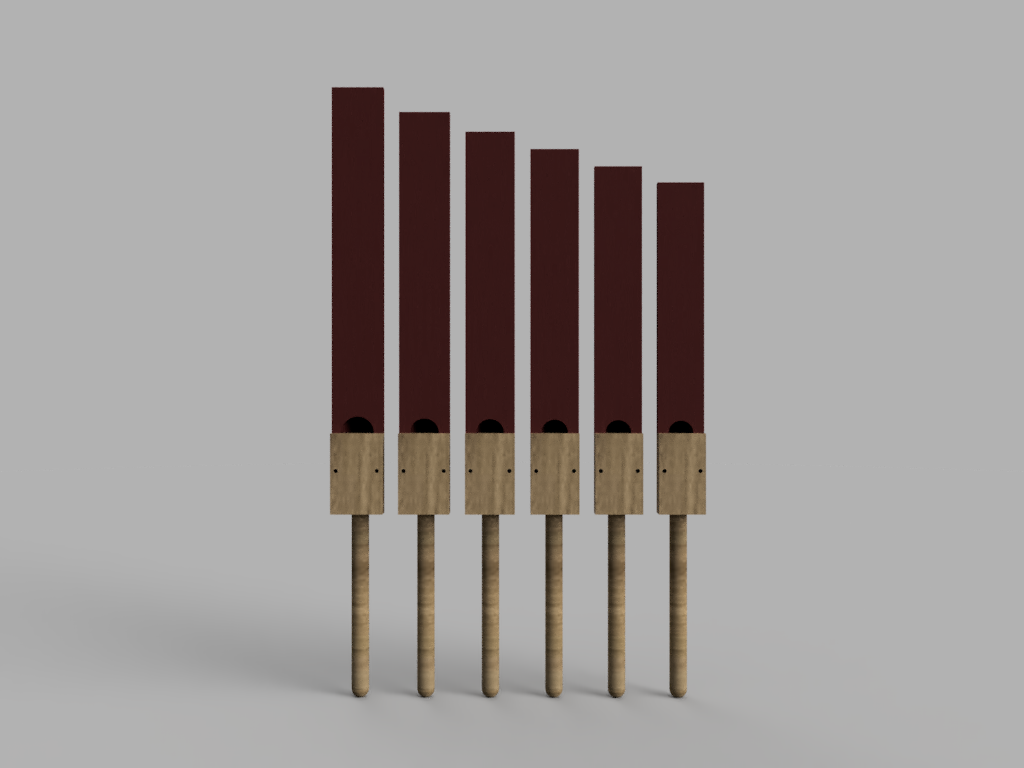 I first learned to build tri-pipes about three years ago after seeing a set belonging to the Northrop organ. Building taught me much about them. I would accidentally discover a harmonic variant before considering how an early-twentieth-century pipe shop might have determined scales for an entire set. The practical use of hemispherical mouth geometry was another find, but one that requires later discussion in somewhat greater depth.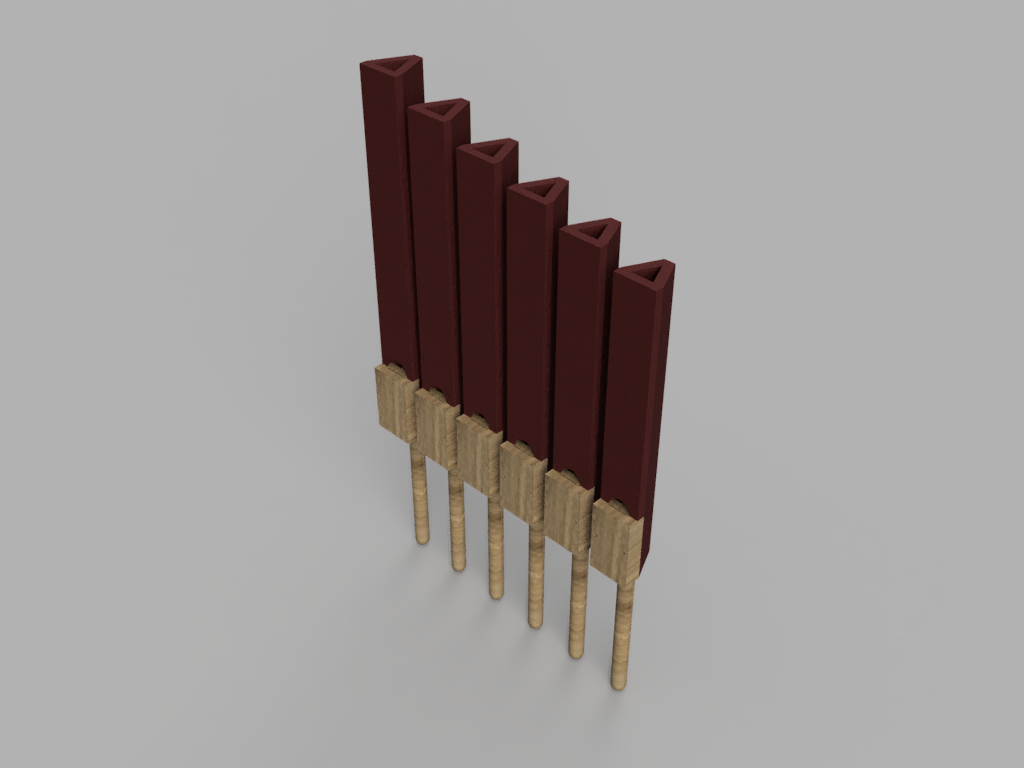 The tri-pipe construction seems to have no real tonal benefit. Their main advantage is that they nest efficiently and in doing so free up toeboard space for additional ranks where space is at a premium.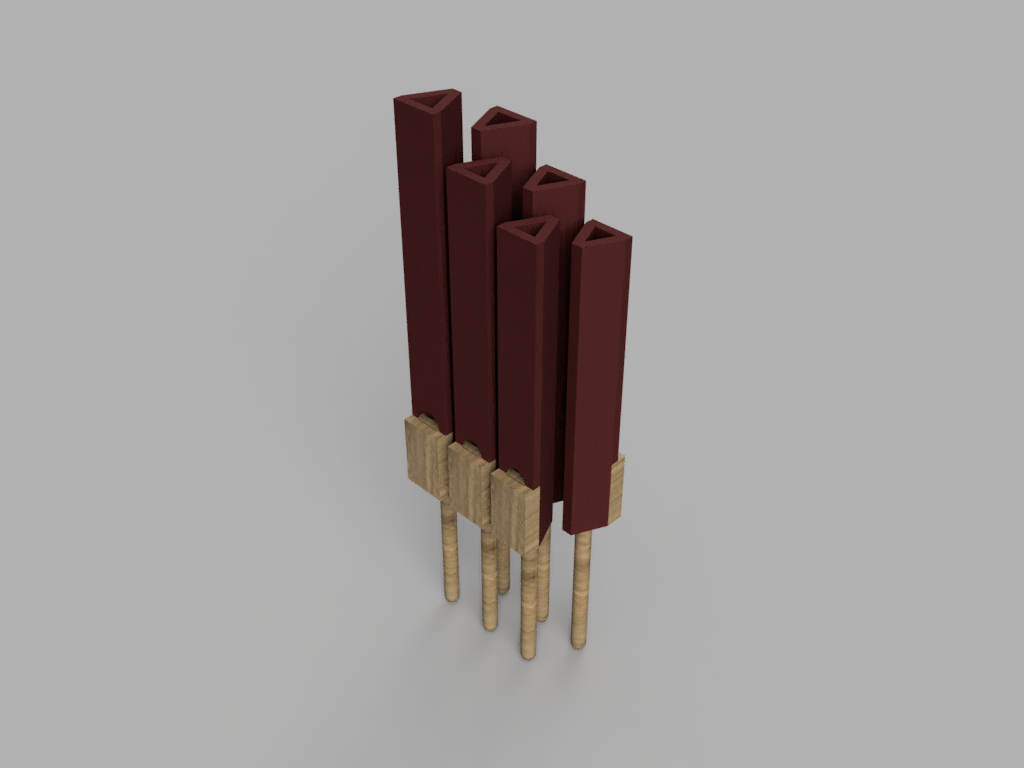 Posted June 3, 2021 20:16

June 1, 2021 14:32
"Real Milk Paint is a non-toxic, organic, eco-friendly, water-based paint. It has been used for centuries to bring color to the world", they continue.
Milk paint is a historically authentic finish. It is both primitive and beautiful. Used on an organ case, it might get one or two older men sitting in the pew to run out to Home Depot and get a few gallons of the latest latex blend. For me, is there another point to building a period-authentic organ?
I experimented with some milk paint colors to see how they combine with naturally oiled hardwoods by building tapered leg stands with hardwood tops and painted legs and aprons. I then created Autodesk Fusion 360 solids from the painted samples shown here to apply to organ case design work.
The structural organ case architecture I developed for my cabinet organ designs adapts well to a combination of solid hardwood frames accented by those that are milk-painted. Further, this will produce an element of authenticity as I incorporate agrarian-artisan, alpine-cultural concepts in my work.
Posted June 1, 2021 14:32

May 24, 2021 19:34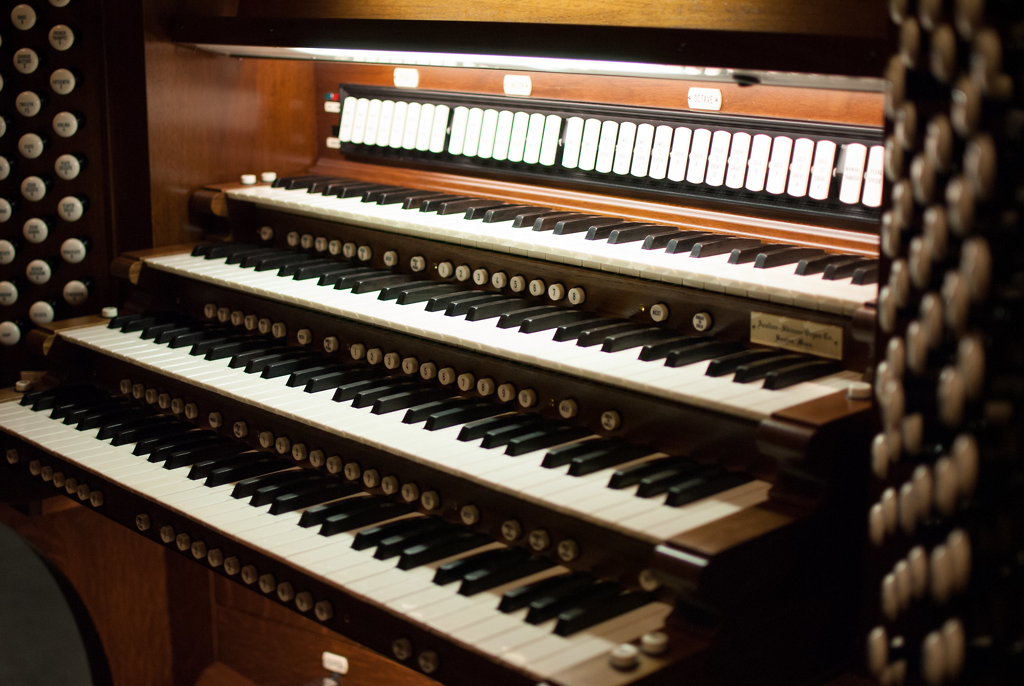 People incorporate tools in their lives to accomplish tasks that are often determined and constrained by the culture in with they live and work. I wrote a digital story a few years ago that dived deeper into this subject from my perspective as a studio woodworker and project designer. You can find a link to it below.
https://sway.office.com/oQ_jdf0CZgHJ33es
Ernest M. Skinner and David Tannenberg could not have been more different in their respective approaches to pipe organ design as one lived and worked in a world far different from the other. Tannenberg did not journal his thoughts, ideas, or design concepts, but Skinner did. He authored a book titled "The Modern Organ", and in it he explains his path to develop the organ into a viable substitute for the symphony orchestra. He enlarged pipe scales, increased wind pressures, applied extensive voicing technique, electrified the key action, gave the stop action combination pistons that one could preset, all to make an instrument played by one individual capable of simulating the sounds and dynamic contrast of the symphony orchestra.
I remember thinking as I read Skinner's book that if one deconstructed his improvements, one would arrive at the comparatively primitive work of baroque organ builder Tannenberg. Tannenberg too was influenced by the socio-economic culture and ethos of this time. Both men worked to design and build tools that were needed by those who used and experienced them. To understand what motivated the work of Tannenberg, I began to look at his time and his religious community the Moravians, in an attempt to synthesize a set of major design themes that I could apply to the design of a new instrument.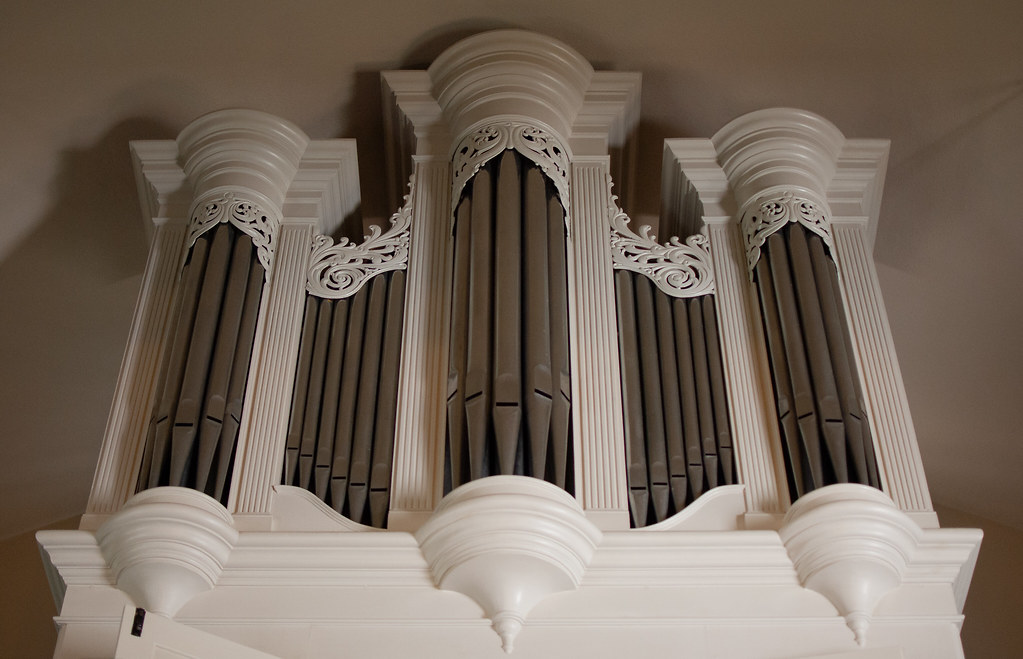 When you begin to understand the time in which he worked, the methods he employed, and the elegant solutions he developed to provide an instrument that ideally served its task, the work of David Tannenberg seems anything but primitive as I found when I researched and played his organ built in 1802 at Hebron Lutheran Church in Madison, Virginia this summer.
Posted May 24, 2021 19:34

April 9, 2021 08:49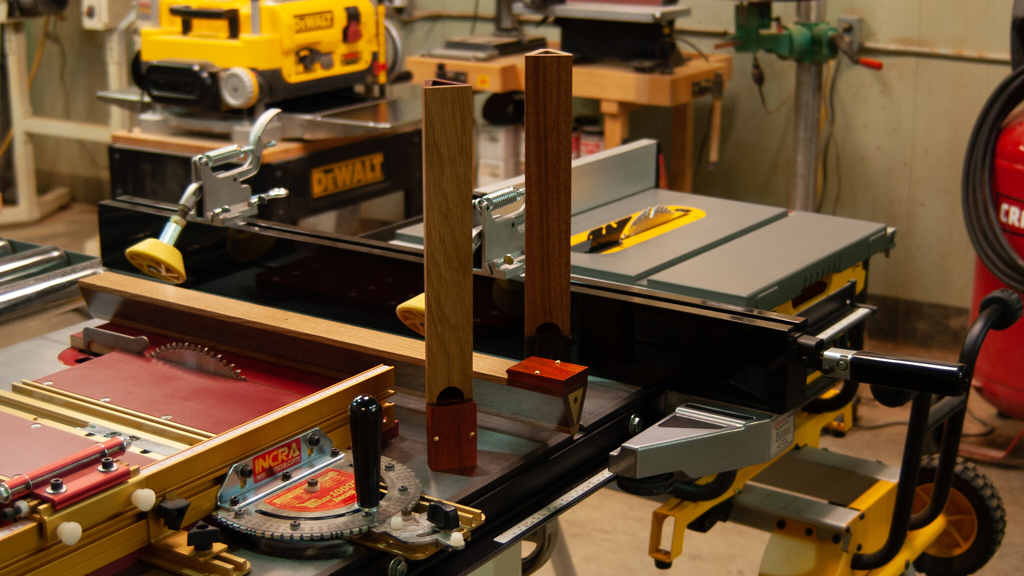 I started a project this fall to better understand wood organ pipes made with triangular cross section. I produced a number of triangular shaped pipes last fall after seeing a triangular flute rank up in the pipe chambers at Northrop Auditorium belonging to Aeolian-Skinner Opus 892 located there. Those pipes I made one year ago were my first introduction to building organ pipes with triangular cross section, and I wanted to take on a new project this fall to further investigate the effect of base angle and scale on tonal result.
The triangular cross section may have an actual application if the availability of the first instrument I built becomes a rebuild before relocation. Triangular cross section allows pipes to nest compactly on a windchest. Replacing the rectangular shaped wood Flaut 4' pipes of that organ with those of triangular cross section would free up space on the windchest to address a tonal deficiency by allowing the inclusion of principal scaled stops at 8' and 4' pitch in the treble sharing the first seventeen bass notes with their respective flute counterparts as was sometimes done in the nineteenth century with small instruments. I would only need to retable the windchest, not trivial in and of itself, but still so much material from the original instrument could be used in the rebuild to make cost attractive.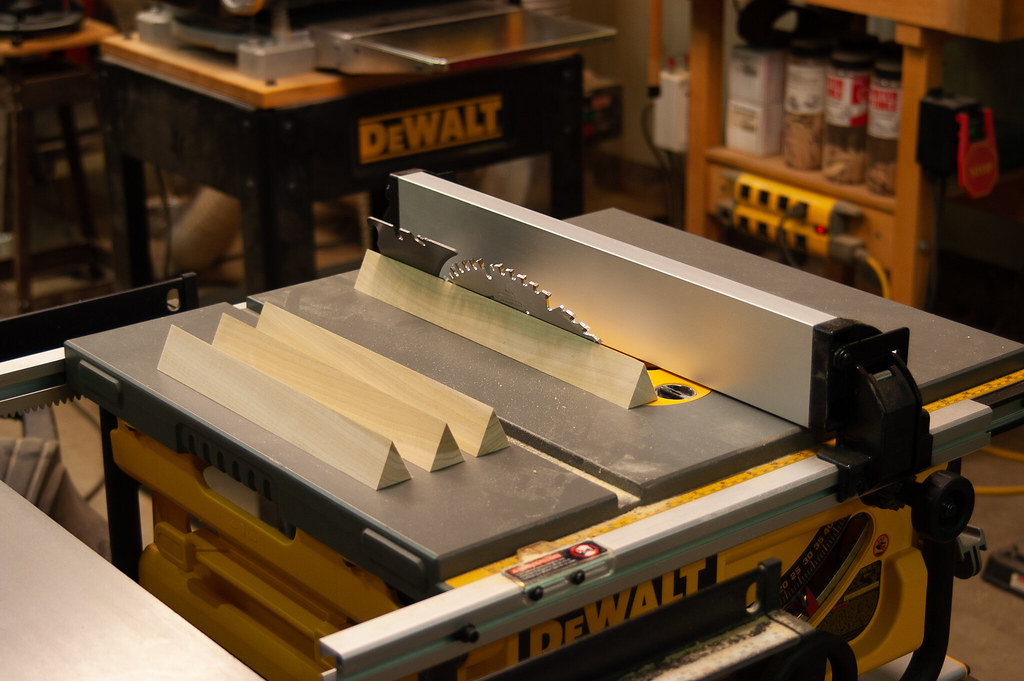 The triangular pipe project I completed this fall has an accidental and potentially significant outcome. I produced a pipe with very narrow scale not really knowing what to expect, and found that it became harmonic effortlessly on lower wind pressure. This needs more investigation because having a harmonic flute available to me that overblows on lower wind pressure would give an additional and useful tone color to include in the design of a small cabinet organ. And its ability to save space makes additional space available to another stop whose inclusion might not otherwise be possible.
I know of no documented example of a harmonic stop whose pipes are made of wood with triangular cross section. Let me therefore introduce you to the Flûte octaviante triangulaire as it might have been named had it come from the shop of Aristide Cavaillé-Coll.
A short video demonstrating the harmonic triangular flute and a normal length pipe speaking the same pitch can be found here.
Posted April 9, 2021 08:49

January 11, 2020 09:25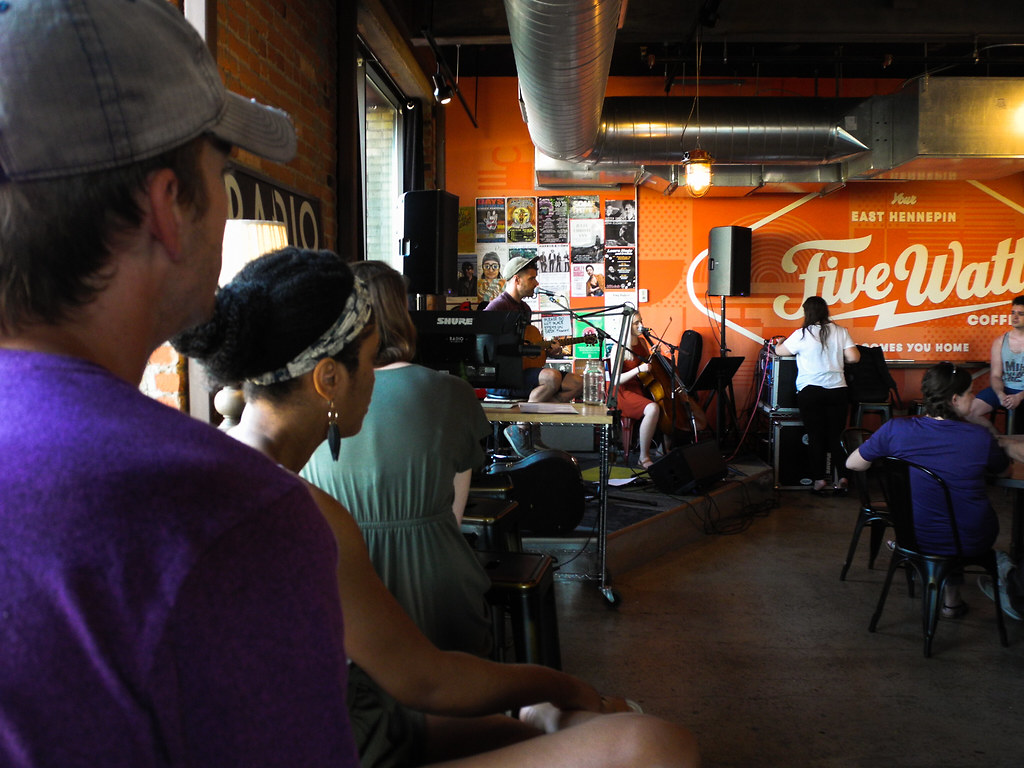 Milwaukee pipe organ builder John Miller and I got together on New Year's Eve day at Five Watt Coffee on Hennepin here in Minneapolis to discuss all things pipe organ and in particular, that which relates to a project we want to launch that repurposes my Op.1 into something that correlates well with our shared idea of an organ placed in an alternative space for collaborative use. It was notable that Five Watt Coffee is a space that combines a coffee shop with an active alt-indie music performance space. One can even find visual art displayed for sale.
I had thought about the merge of pipe organ culture and alt-hipster culture before and wrote about it here after seeing two friends form a collaborative indie-folk group combining dance with music, perform out one night. I also discussed in the same story the possibility of placing a cabinet organ for collaborative use in an alternative performance space like an art gallery. John Miller saw potential in the type of space provided by Five Watt Coffee itself.
I occasionally work with the Product Design major at the University of Minnesota where students are set up in courses to work collaboratively in teams. This method of instruction is referred to as Team Based Learning or alternatively, Active Learning. The performance space John and I see an organ going into is essentially, whether on a college campus or not, an active learning space where a team of musicians get together and perform using our collaborative pipe organ project as a performance hub. And like Five Watt Coffee, the ideal location would be a multi-use performance space where people come together to experience and interact with the art and performance going on around them.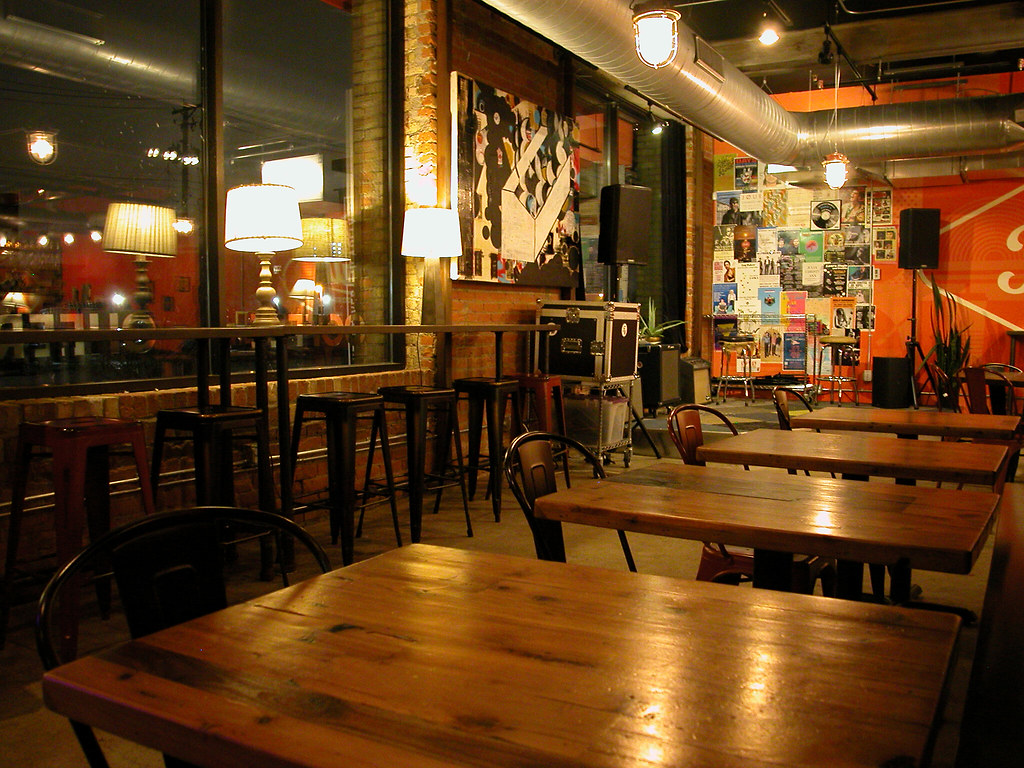 My goal in the new year is to shop our concepts around and seek a project commission that rebuilds Op.1 into a tool for collaborative music performance. The goal is innovative and worth taking time to pursue.
Posted January 11, 2020 09:25

RSS Feed
A Design Narrative Based on Culture and Art

by Steve Panizza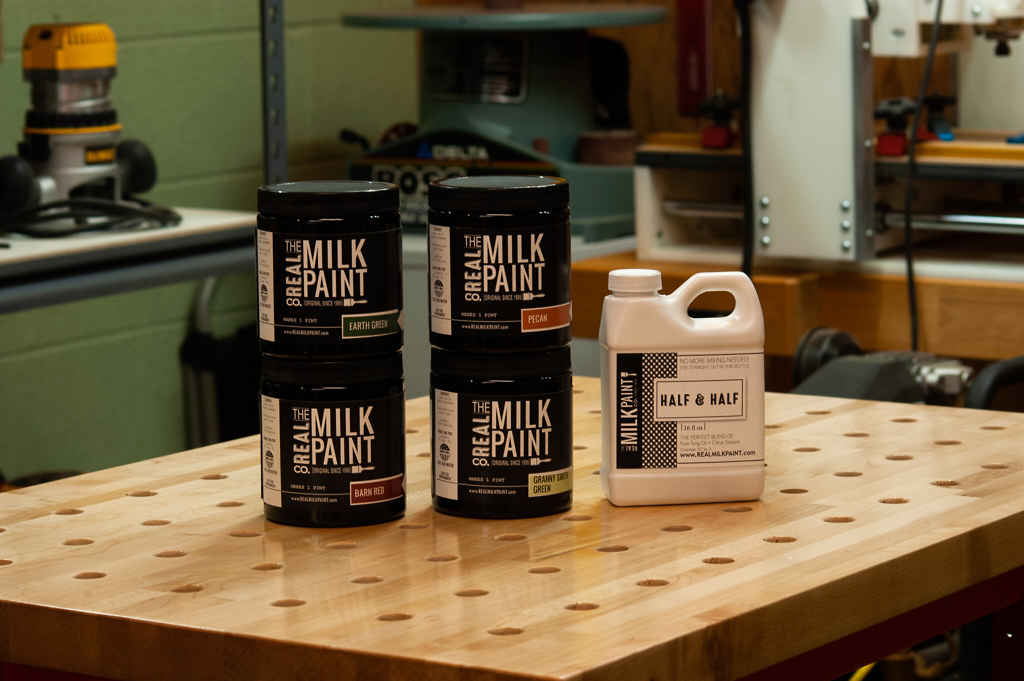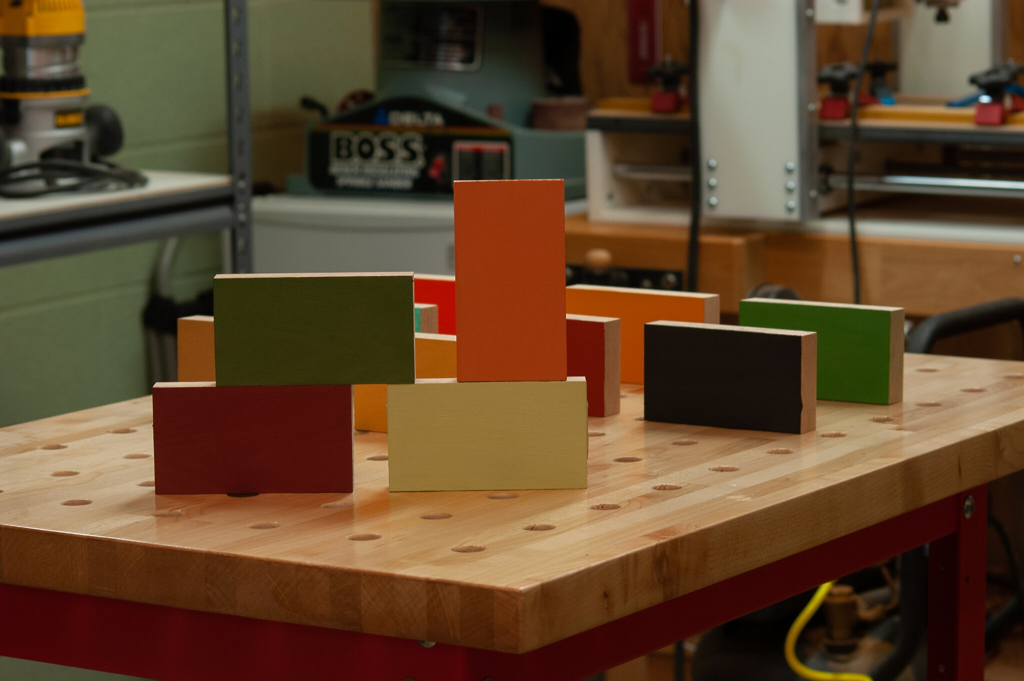 Recent Blog Entries
Archive